NXE1 : 1 W DC-DC converter 30% smaller height profile at a lower price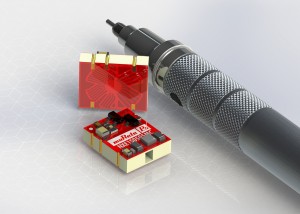 Murata today announced the NXE1 series of low cost 1 Watt DC-DC converters from Murata Power Solutions. Measuring only 12.7 x 10.4 x 4.8 mm, these ultra-compact converters have a profile more than 30% lower than the 7 mm height industry norm, making them suitable for use in even the smallest space-constrained designs. Also, unlike other isolated surface mount DC/DC converters available in the market, the NXE1 has the benefit of being manufactured using automated processes that greatly improve overall product reliability and delivering consistent performance characteristics. Other space-saving features of the NXE1 include a transformer that is embedded in the substrate. Together all the innovative design and fabrication features of the NXE1 contribute to Murata being able to price the series very competitively. At launch the first model in the series has +5 VDC input & output with other 3.3 VDC input versions available shortly. Input to output isolation is 3 kVDC. With an industry standard pin compatible footprint the series is ideal for a replacement product in existing designs as well as for new compact applications. The series can be used across the full industrial temperature range from -40 to +85 degrees C. Certification to the internationally recognized UL60950 safety standard for IT and commercial equipment is pending.
Ref. MUR312
Further editorial information from:
Amy Collins
Marketing Communications Manager
Murata Power Solutions
Tel: +1-508-964-5270
Contact details for publication:
Murata Power Solutions, Inc.,
129 Flanders Road
Westborough, MA 01581, USA
Tel: +1-508-339-3000
About Murata Power Solutions
Murata Power Solutions (www.murata-ps.com) is headquartered in Westborough, Massachusetts, with over 1,300 employees worldwide. Murata Power Solutions designs, manufactures and distributes DC-DC Converter, AC-DC Power Supply, Magnetic and Digital Panel Meter product lines, and offers these products in custom, standard and modified-standard variations. Murata Power Solutions. products are typically used within electronic applications serving major global market sectors including telecommunications, computing and industrial controls.
Murata Power Solutions is a division of Murata Manufacturing Co., Ltd., a worldwide leader in the design, manufacture and sale of electronic components and power supply modules. Murata's devices are found in a wide range of applications including consumer and automotive electronics, and wireless devices. The company has employees and manufacturing facilities throughout the world.