HPH & UCH : Two new next Generation ranges of single output, half-brick, isolated DC/DC Converters.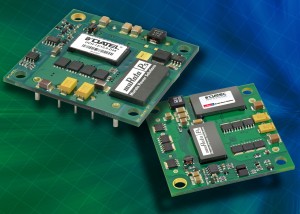 EN
|
FR
|
DE
|
CN
|
JP
|
DN
Murata Power Solutions has added two new ranges of single output, half-brick, isolated DC/DC Converters to its product portfolio. The HPH series is a family of ultra-high output converters with different models capable of delivering up to 360W of power and 70A output current. The UCH series comprises modules that deliver between 50W and 150W of output power and a maximum output current of 40A - at a very low cost. Both the HPH and UCH series are isolated to 2250VDC with an open-frame construction and are designed for PCB mounting. Both series are in compliance with RoHS legislation, and have UL60950-1 and EN60950-1 safety approvals. HPH DC/DC Converters offer a choice of fully regulated single outputs ranging from 3.3VDC to 12VDC. A wide input voltage range of 36VDC to 75VDC, combined with an industry standard pinout and package measuring 61mm x 58.4mm x 10.2mm, simplifies the use of the modules in low voltage / high current OEM applications. The new converters utilize a full-bridge, fixed-frequency topology along with synchronous output rectification that enables levels of efficiency up to 91% to be achieved. Operating temperature range is -40ºC to +85ºC. An optional baseplate further enhances thermal performance. The UCH series is offered with outputs from 2.5VDC to 15VDC and a choice of either 36VDC to 75VDC or 18VDC to 36VDC input voltages. Module footprint and installed height are identical to the HPH series. UCH series DC/DC Converters are ideal for demanding telecom, datacom and networking applications with their semi-synchronous rectifier design helping them achieve industry-leading efficiency levels of up to 92%. The standard operating temperature range for the UCH family is -40ºC to +85ºC. By using an optional baseplate, the thermal performance can be further improved. Remote sense, output trim and primary side on/off control with either positive or negative logic are included in the design of both new product series. The design of both series provides short circuit protection and thermal shutdown, plus input under-voltage and input/output over-voltage protection.
Ref. MPS287A
Further editorial information from:
Amy Collins
Marketing Communications Manager
Murata Power Solutions
Tel: +1-508-964-5270
Contact details for publication:
Murata Power Solutions, Inc.,
129 Flanders Road
Westborough, MA 01581, USA
Tel: +1-508-339-3000
About Murata Power Solutions
Murata Power Solutions (www.murata-ps.com) is headquartered in Westborough, Massachusetts, with over 1,300 employees worldwide. Murata Power Solutions designs, manufactures and distributes DC-DC Converter, AC-DC Power Supply, Magnetic and Digital Panel Meter product lines, and offers these products in custom, standard and modified-standard variations. Murata Power Solutions. products are typically used within electronic applications serving major global market sectors including telecommunications, computing and industrial controls.
Murata Power Solutions is a division of Murata Manufacturing Co., Ltd., a worldwide leader in the design, manufacture and sale of electronic components and power supply modules. Murata's devices are found in a wide range of applications including consumer and automotive electronics, and wireless devices. The company has employees and manufacturing facilities throughout the world.