D1U4 Additions : Murata Expands D1U4 Series of High Power Programmable AC-DC Power Supplies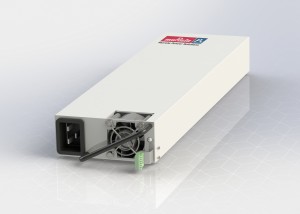 Murata has announced an addition to its D1U4 series of AC-DC front-end power supplies from Murata Power Solutions. These programmable supplies features a dual I
2
C interface, controllable bidirectional output isolation. The compact D1U4 measures just 41 x 355.6 x 101.6 mm and allows up to four supplies to be contained on a single 1U-high 19-inch rack-mounting chassis. With a 54 VDC primary output and a standby
12 VDC for powering standby circuitry, the supply accommodates the very wide input range of 90 to 264 VAC. The main output of each power supply is isolated and floating, enabling positive or negative polarity operation, and has a holdup time of 20 ms minimum at full rated power. Users have a choice of standard I
2
C or advanced PMBus communications and will benefit from the bidirectional output isolation and PoE compatibility of this product. The D1U4 series employs an advanced power conversion topology and uses a fixed switching frequency to minimize RFI and maximize efficiency. The supplies have no minimum load requirement, and support active current sharing and bidirectional output isolation via MOSFET. The units are primarily intended for high availability central office, telecommunications, and server type applications, such as data centers. The power supplies are hot pluggable and are comprehensively protected against faults including overvoltage, overcurrent, overpower, overtemperature, and short-circuit conditions. They also feature extensive remote monitoring and diagnostic facilities - the supply's output current and voltage, internal temperature, and hours of operation values can be retrieved via I
2
C or the Power Management Bus™ (PMBus™) serial bus interface. The AC input D1U4 series currently comprises two models, a 12 VDC output model with power ratings of 1200W, 1600W, and 2200 watts, and a 54VDC output model with a power rating of 1,600 watts. The D1U4 series incorporates low-noise fan cooling with automatic speed control, and has a storage temperature range of -40 to +70 degrees Celsius. The power supplies meet the rigorous EN60950-1 standards, and comply with applicable EMC immunity standards, CQC, and TUV. The supplies carry CAN/CSA C22.2.No 60950-1-07 and UL safety approvals. A DC input model (D1U4CS-D-2100-5x) is also available in size 101.6x343x40mm with a 2,100 Watt output that is designed to deliver reliable bulk power to 54V distributed power systems. The highest power model in the series with 12 VDC output is the D1U4CS-W-2200-12 and has a 2.2 kW output rating. This allows OEMs and system integrators to configure individual power shelves with up to 8.8kW of available power, or up to 6.6 kW of redundant power. Also, the power supplies can be stacked up to 6U high, to provide up to 52.8 kW of available power.
Ref. MUR316
Further editorial information from:
Amy Collins
Marketing Communications Manager
Murata Power Solutions
Tel: +1-508-964-5270
Contact details for publication:
Murata Power Solutions, Inc.,
129 Flanders Road
Westborough, MA 01581, USA
Tel: +1-508-339-3000
About Murata Power Solutions
Murata Power Solutions (www.murata-ps.com) is headquartered in Westborough, Massachusetts, with over 1,300 employees worldwide. Murata Power Solutions designs, manufactures and distributes DC-DC Converter, AC-DC Power Supply, Magnetic and Digital Panel Meter product lines, and offers these products in custom, standard and modified-standard variations. Murata Power Solutions. products are typically used within electronic applications serving major global market sectors including telecommunications, computing and industrial controls.
Murata Power Solutions is a division of Murata Manufacturing Co., Ltd., a worldwide leader in the design, manufacture and sale of electronic components and power supply modules. Murata's devices are found in a wide range of applications including consumer and automotive electronics, and wireless devices. The company has employees and manufacturing facilities throughout the world.