MGJ3 and MGJ6 Series : Configurable output voltage, high isolation DC-DC converters for IGBT and MOSFET gate drive applications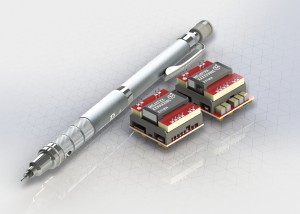 Murata today announced the MGJ3 and MGJ6 series of configurable output voltage, high isolation DC-DC converters from Murata Power Solutions. These 3 Watt and 6 Watt surface mounted devices are optimized for use as high-side and low-side gate drivers in IGBT and MOSFET bridge circuit designs. Providing triple output voltages of +15, +5 and +5 VDC, these converters provide optimum switching of IGBT drives for best overall system efficiency. In addition, the outputs are configurable to suit a number of different circuit requirements such as +15 and -5 VDC or +20 and -5 VDC. Both the MGJ3 3 Watt and the MGJ6 6 watt converters are available with a choice of wide input voltages around nominal +5, +12, or +24 VDC inputs. The input ranges are 4.5 to 9 VDC (+5 VDC nominal), 9 to 18 VDC (+12 VDC nominal) and 18 to 36 VDC (+24 VDC nominal). The MGJ3 measures 23.11 x 22.61 x 14.65 mm and the MGJ6 is 31.24 x 22.61 x 14.65 mm. Both series can operate over the wide temperature range from -40 to +105 degrees C. Short circuit and overload protection features ensure a robust operation during system fault conditions. Other control inputs include an enable pin to facilitate power saving and a frequency synchronization input that aids EMC filter design. Typical applications for the MGJ series include use in motor drives, traction control drives, and wind turbine generators.
Ref. MUR311
Further editorial information from:
Amy Collins
Marketing Communications Manager
Murata Power Solutions
Tel: +1-508-964-5270
Contact details for publication:
Murata Power Solutions, Inc.,
129 Flanders Road
Westborough, MA 01581, USA
Tel: +1-508-339-3000
About Murata Power Solutions
Murata Power Solutions (www.murata-ps.com) is headquartered in Westborough, Massachusetts, with over 1,300 employees worldwide. Murata Power Solutions designs, manufactures and distributes DC-DC Converter, AC-DC Power Supply, Magnetic and Digital Panel Meter product lines, and offers these products in custom, standard and modified-standard variations. Murata Power Solutions. products are typically used within electronic applications serving major global market sectors including telecommunications, computing and industrial controls.
Murata Power Solutions is a division of Murata Manufacturing Co., Ltd., a worldwide leader in the design, manufacture and sale of electronic components and power supply modules. Murata's devices are found in a wide range of applications including consumer and automotive electronics, and wireless devices. The company has employees and manufacturing facilities throughout the world.