D1U4-W : Front End power supply combines high efficiency and power density to save energy and space in distributed power architecture systems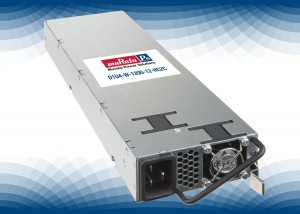 EN
|
FR
|
DE
|
CN
|
JP
|
DN
Murata Power Solutions has introduced a new family of AC/DC Front End power supplies that deliver bulk power with high efficiency of up to 90.9% and high power density up to 17.9W/in.³ The new units are ideal for use in servers, network equipment and other distributed power architecture applications. The D1U4-W series is housed in a 1U low-profile package and is offered with output power of 1600 W (220VAC) or 1200W (110VAC) and main output voltages of 12V. The D1U4-W series has active power factor correction and features active current sharing on its main output. Integrated OR-ing FETs support N+1 operation including hot docking. In addition to the main output, standby outputs of either 3.3V or 5V that give up to 20W of standby power are provided to support system housekeeping and monitoring requirements. The highly efficient electrical and thermal design uses proven topology and components and includes integral cooling fans to further support highly reliable operation; the D1U4-W series is an extension of the D1U product family that has a demonstrated field reliability of 6.8 million hours. Protection features include auto-recovery from both over-current and over-temperature faults. Status information is provided via front panel LEDs, logic signals and an I2C management interface. Overall dimensions of the D1U4-W Front End power supply are 355.6mm (L) x 101.6mm (W) x 41mm (H) - (14.0in. x 4.0in. x 1.6in.). If required, four units can be packaged together in an optional 19in. power shelf (S1U-4X) to provide up to 4.8kW of power. All models are fully RoHS compliant and are EMC class A rated. Operating temperature range is 0ºC to +50ºC.
Ref. MPS277A
Further editorial information from:
Amy Collins
Marketing Communications Manager
Murata Power Solutions
Tel: +1-508-964-5270
Contact details for publication:
Murata Power Solutions, Inc.,
129 Flanders Road
Westborough, MA 01581, USA
Tel: +1-508-339-3000
About Murata Power Solutions
Murata Power Solutions (www.murata-ps.com) is headquartered in Westborough, Massachusetts, with over 1,300 employees worldwide. Murata Power Solutions designs, manufactures and distributes DC-DC Converter, AC-DC Power Supply, Magnetic and Digital Panel Meter product lines, and offers these products in custom, standard and modified-standard variations. Murata Power Solutions. products are typically used within electronic applications serving major global market sectors including telecommunications, computing and industrial controls.
Murata Power Solutions is a division of Murata Manufacturing Co., Ltd., a worldwide leader in the design, manufacture and sale of electronic components and power supply modules. Murata's devices are found in a wide range of applications including consumer and automotive electronics, and wireless devices. The company has employees and manufacturing facilities throughout the world.