D1U54P : Murata launches 94% Platinum efficiency 1200 Watt power supply in 54mm form factor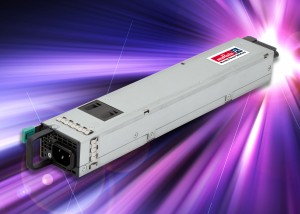 Murata, a market leading supplier of power products, announced today the D1U54P series of 54mm wide 1200 Watt front end power supplies from Murata Power Solutions. With industry leading efficiency of greater than 94% and a power density in excess of 28 Watts per cubic inch, these low profile units measure only 54.5 x 321.5 x 40 mm and fit the industry standard 1U package format. This high efficiency significantly lowers the cooling requirements and also contributes to power savings in customer applications. Additionally the design offers at least 8% more power than leading competitors in the same form factor. The D1U54P series comprises two models, both providing a + 12 VDC 1200 Watt output and an auxiliary +5 VDC 15 Watt output. The power factor corrected D1U54P series accommodates the universal AC input range from 90 to 264 VAC. Forced air cooling is provided by an internal variable speed fan. The series features a 0 to 60 degrees C operating temperature range. The D1U54P series features hot-swapping and active current sharing for up to 8 supplies to be connected together. Safety features include output overvoltage, output overcurrent and self-resetting overtemperature protection. PMBus management and I2C interface with status indicators and boot loading are also available. Bi-Color LEDs on the front panel indicate the status of the power supply. The D1U54P series design utilizes a low component count resulting in high reliability (MTBF 529K hours). Typical applications for the D1U54P series include data centers, servers, storage sub-systems and data communications infrastructure equipment. The D1U54P series complies with international safety standards IEC/EN/CSA/UL BSMI and CCC 60950-1 for IT equipment.
Ref. MUR252
Further editorial information from:
Amy Collins
Marketing Communications Manager
Murata Power Solutions
Tel: +1-508-964-5270
Contact details for publication:
Murata Power Solutions, Inc.,
129 Flanders Road
Westborough, MA 01581, USA
Tel: +1-508-339-3000
About Murata Power Solutions
Murata Power Solutions (www.murata-ps.com) is headquartered in Westborough, Massachusetts, with over 1,300 employees worldwide. Murata Power Solutions designs, manufactures and distributes DC-DC Converter, AC-DC Power Supply, Magnetic and Digital Panel Meter product lines, and offers these products in custom, standard and modified-standard variations. Murata Power Solutions. products are typically used within electronic applications serving major global market sectors including telecommunications, computing and industrial controls.
Murata Power Solutions is a division of Murata Manufacturing Co., Ltd., a worldwide leader in the design, manufacture and sale of electronic components and power supply modules. Murata's devices are found in a wide range of applications including consumer and automotive electronics, and wireless devices. The company has employees and manufacturing facilities throughout the world.