MEU1 : Murata shrinks 1 W DC-DC converter size by 26%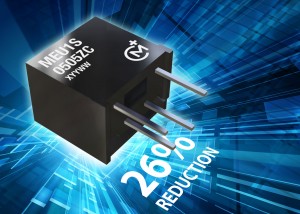 Murata today announced the MEU1 series of ultra miniature single isolated output 1 Watt DC-DC converters from Murata Power Solutions. Measuring just 8.30 x 6.10 x 7.55 mm, this new series achieves a 26% footprint reduction when compared to previously released products. Available as through-hole mounting with staggered style pin outs, the MEU1 achieves a 25% increase in power density and can deliver its output power over the whole temperature range of – 40 degrees C to +85 degrees C. The reduction in converter volume and footprint allows engineers to reduce the overall dimensions of their application, which is critical for space-constrained designs. Conversion efficiency has also been improved by typically 6% across the full load range compared to previous models. Efficiency improvements contribute to lowering the overall system power consumption in addition to increasing system reliability. The MEU1 series also has load regulation that is typically 3% better than the industry norm when compared to similar miniature through-hole converters. This reduces the need for any additional external regulation components and further conserves precious board space. A total of 14 models are available, with the popular input voltages of 3.3, 5, or 12 VDC and providing outputs of 3.3, 5, 9, 12, or 15 VDC. 1kVDC galvanic isolation aids reduction of switching noise and allows the converter to be configured to provide an isolated negative rail in systems where only positive rails exist. Ann-Marie Bayliss, Product Marketing Manager, Murata, comments, "The MEU1 sets a new industry footprint standard for 1W DC/DC converters. Engineers wishing to reduce the size of their end-products are always looking at ways to conserve board space. The MEU1 helps them achieve this while still providing excellent efficiency and load regulation characteristics." Certification to the international safety standard UL/IEC 60950 is pending.
Ref. MUR269
Further editorial information from:
Amy Collins
Marketing Communications Manager
Murata Power Solutions
Tel: +1-508-964-5270
Contact details for publication:
Murata Power Solutions, Inc.,
129 Flanders Road
Westborough, MA 01581, USA
Tel: +1-508-339-3000
About Murata Power Solutions
Murata Power Solutions (www.murata-ps.com) is headquartered in Westborough, Massachusetts, with over 1,300 employees worldwide. Murata Power Solutions designs, manufactures and distributes DC-DC Converter, AC-DC Power Supply, Magnetic and Digital Panel Meter product lines, and offers these products in custom, standard and modified-standard variations. Murata Power Solutions. products are typically used within electronic applications serving major global market sectors including telecommunications, computing and industrial controls.
Murata Power Solutions is a division of Murata Manufacturing Co., Ltd., a worldwide leader in the design, manufacture and sale of electronic components and power supply modules. Murata's devices are found in a wide range of applications including consumer and automotive electronics, and wireless devices. The company has employees and manufacturing facilities throughout the world.