DMR20-1-ACV : True RMS self-powered AC voltmeter fits 30.5 mm / 1.20 inch panel cutout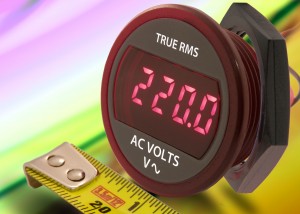 Murata today announced the DMR20-1-ACV "nanometer" self-powered four-digit bright LED voltmeter. This line powered AC voltmeter can measure the true RMS value of its input from 85 to 264 VAC to within 0.1 V resolution. Designed to be completely self-contained, the low cost two-wire voltmeter requires no additional components or connections apart from the AC voltage it is measuring. It is capable of accurately measuring quasi-sine AC source such as modified, modified 2-step and modified 3-step sine wave in addition to conventional sine, triangle and square wave inputs. The voltmeter fits an industry standard "oiltight" 30 and 30.5 mm / 1.2 inch round panel cutout. The 7.6 mm / 0.3 inch four-digit LED display is housed in a rugged round polycarbonate case that provides protection against dust, moisture, vibration and shock. It is supplied with an EPDM rubber gasket and plastic hex nut that aid protection to IP67 / NEMA6 specification for water ingress. The DMR20-1-ACV is ideal for measuring the AC line voltage of a wide range of applications such as primary line power, power distribution units and backup power generation sources. The voltmeter consumes a maximum of 30 mA when used at 250 VAC / 60 Hz. Round knockout punch tooling can be ordered with the DMR20.
Ref. MUR259
Further editorial information from:
Amy Collins
Marketing Communications Manager
Murata Power Solutions
Tel: +1-508-964-5270
Contact details for publication:
Murata Power Solutions, Inc.,
129 Flanders Road
Westborough, MA 01581, USA
Tel: +1-508-339-3000
About Murata Power Solutions
Murata Power Solutions (www.murata-ps.com) is headquartered in Westborough, Massachusetts, with over 1,300 employees worldwide. Murata Power Solutions designs, manufactures and distributes DC-DC Converter, AC-DC Power Supply, Magnetic and Digital Panel Meter product lines, and offers these products in custom, standard and modified-standard variations. Murata Power Solutions. products are typically used within electronic applications serving major global market sectors including telecommunications, computing and industrial controls.
Murata Power Solutions is a division of Murata Manufacturing Co., Ltd., a worldwide leader in the design, manufacture and sale of electronic components and power supply modules. Murata's devices are found in a wide range of applications including consumer and automotive electronics, and wireless devices. The company has employees and manufacturing facilities throughout the world.