ACA-20RM : Self-Contained true-RMS Ammeters provide compact and easy-to-use solution for measurement of non-sinusoidal AC currents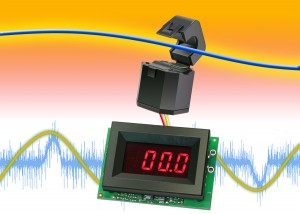 EN
|
FR
|
DE
|
CN
|
JP
|
DN
Five models provide current measurement from 0 to 50A
Large easy-to-read red LED display
Choice of either 120V or 220V (nominal) operation
Murata Power Solution's new ACA-20RM series are the world's first true-RMS responding digital AC ammeters with built-in current transformers (CTs). They are able to provide direct measurement of the true-RMS values of complex, non-sinusoidal AC currents of between 2A and 50A. Ideal for use in the latest computer and telecom equipment, the compact, self-powered, single-board modules feature a large, easy-to-read LED display and provide an ideal replacement for older, less reliable, analog panel meters. The Murata Power Solutions ACA-20RM series comprises five models with current ranges of: 0 - 0.2A (0.1mA resolution), 0-2A (0.001A resolution), 0 - 20A (0.01A resolution), 0-30A (0.1A resolution), and 0 - 50A (0.1A resolution). The modules are self-powered with both 120V (85-140VAC) and 220V (170-264VAC) versions available. Power consumption is less than 50mA. The on-board, miniature, high-turns ratio CTs provide an accurate and straightforward way to measure AC load currents. The 50A model features an over-sized split core transformer to ease installation and accommodate wires up to 4AWG (21.1mm2). All ACA-20RM series True-RMS-AC Ammeters utilize low power consumption, bright red LED displays with easy-to-read full-size 0.37in. (9.4mm) high characters. The completely self-contained design of the modules enhances reliability and means that no external components are required. Precision auto-zeroing circuitry, super-stable components and an RMS-to-DC converter circuit combine to give the ACA-20RM series excellent performance. A built-in bezel / filter assembly with metal fasteners allows straightforward assembly of the new Ammeters into customer applications. All models use UL and CSA recognized components and have overall dimensions of 1.826in. (46.38mm) X 1.280in. (32.51mm). Operating temperature range is 0ºC to +60ºC.
Ref. MPS279A
Further editorial information from:
Amy Collins
Marketing Communications Manager
Murata Power Solutions
Tel: +1-508-964-5270
Contact details for publication:
Murata Power Solutions, Inc.,
129 Flanders Road
Westborough, MA 01581, USA
Tel: +1-508-339-3000
About Murata Power Solutions
Murata Power Solutions (www.murata-ps.com) is headquartered in Westborough, Massachusetts, with over 1,300 employees worldwide. Murata Power Solutions designs, manufactures and distributes DC-DC Converter, AC-DC Power Supply, Magnetic and Digital Panel Meter product lines, and offers these products in custom, standard and modified-standard variations. Murata Power Solutions. products are typically used within electronic applications serving major global market sectors including telecommunications, computing and industrial controls.
Murata Power Solutions is a division of Murata Manufacturing Co., Ltd., a worldwide leader in the design, manufacture and sale of electronic components and power supply modules. Murata's devices are found in a wide range of applications including consumer and automotive electronics, and wireless devices. The company has employees and manufacturing facilities throughout the world.