MEJ1 : Compact 1 Watt DC-DC converter complies with UL60601-1 for medical safety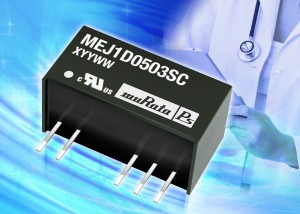 Murata today announced the Murata Power Solutions MEJ1 series of isolated 1 Watt DC-DC converters. Encapsulated in a 7 pin SIP package, the MEJ1 series offers basic and supplementary isolation to the internationally recognized UL60950 standard. The converter is certified to a continuous working voltage of 200 Vrms when operating in a maximum ambient temperature of + 85 degrees C. Input to output isolation is rated at 5,200 VDC for 1 second. The series also complies with the 3
rd
edition of medical safety standard UL60601-1 and provides the following MOOP (means of operator protection): 2 MOOP based upon a working voltage of 200 Vrms max. and 280Vpkmax., between primary and secondary and 1 MOOP based upon a working voltage of 200 Vrms max., between primary and its enclosure. The series comprises 38 models with both single and dual output versions available. Single output models provide 3.3, 5, 9, 12, or 15 Vout. Dual versions provide both positive and negative outputs; 5, 12, 15, or 24 Vin is accommodated across the whole range and single output models also have a 3.3 Vin option. Typical energy efficiencies are in the range of 70 to 78%. The MEJ1 series is designed for low power applications that require a high degree of isolation such as an agency-approved safety barrier for medical equipment, IGBT drivers, and control systems. The converters are pin compatible with previously released models from Murata Power Solutions including the MEV, NMV, NMK, MEJ2, and NMJ series.
Ref. MUR256
Further editorial information from:
Amy Collins
Marketing Communications Manager
Murata Power Solutions
Tel: +1-508-964-5270
Contact details for publication:
Murata Power Solutions, Inc.,
129 Flanders Road
Westborough, MA 01581, USA
Tel: +1-508-339-3000
About Murata Power Solutions
Murata Power Solutions (www.murata-ps.com) is headquartered in Westborough, Massachusetts, with over 1,300 employees worldwide. Murata Power Solutions designs, manufactures and distributes DC-DC Converter, AC-DC Power Supply, Magnetic and Digital Panel Meter product lines, and offers these products in custom, standard and modified-standard variations. Murata Power Solutions. products are typically used within electronic applications serving major global market sectors including telecommunications, computing and industrial controls.
Murata Power Solutions is a division of Murata Manufacturing Co., Ltd., a worldwide leader in the design, manufacture and sale of electronic components and power supply modules. Murata's devices are found in a wide range of applications including consumer and automotive electronics, and wireless devices. The company has employees and manufacturing facilities throughout the world.