MTE1 : 1 Watt DC-DC converter achieves 88% efficiency and has MSL 1 moisture sensitivity rating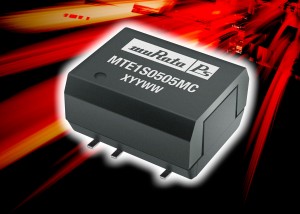 Murata today announced the Murata Power Solutions MTE1 series of isolated 1 Watt single output DC-DC converters. Suitable for a broad range of industrial and automation applications, these highly efficient units, up to 88%, offer much better efficiency across the full load range than competitor models currently available, resulting in less waste heat to be dissipated. The MTE1 series consume less power and achieve higher reliability rates, contributing to better overall product and system reliability. The MTE1 series also has a load regulation that is typically 5% better than similar models available in the industry. Input voltage options are the 5 most popular nominal input voltages of 3.3, 5, 12, 15, or 24 VDC input. Output voltages include 3.3, 5, 9, 12, or 15 VDC. Full load capability is provided across the full industrial temperature range of -40 degrees C to +85 degrees C. The MTE1 series has the highest moisture sensitivity level rating, MSL 1, and is compatible with a peak reflow solder temperature of 245 degrees C as per J-STD-020D. Moisture absorption and retention can be a major issue for many surface-mount devices with lesser MSL rating, as large stresses can be generated when the part is subjected to a rapid and very large temperature rise, such as during lead-free reflow processing. The resulting rapid release of moisture as gas can easily physically destroy the device. An MSL 1 rating means no expensive handling and storage precautions are necessary. Packaged to match an industry standard footprint, the MTE1 series can be used as a pin-compatible replacement for older designs without the need to re-engineer an application's PCB layout.
Ref. MUR204
Further editorial information from:
Amy Collins
Marketing Communications Manager
Murata Power Solutions
Tel: +1-508-964-5270
Contact details for publication:
Murata Power Solutions, Inc.,
129 Flanders Road
Westborough, MA 01581, USA
Tel: +1-508-339-3000
About Murata Power Solutions
Murata Power Solutions (www.murata-ps.com) is headquartered in Westborough, Massachusetts, with over 1,300 employees worldwide. Murata Power Solutions designs, manufactures and distributes DC-DC Converter, AC-DC Power Supply, Magnetic and Digital Panel Meter product lines, and offers these products in custom, standard and modified-standard variations. Murata Power Solutions. products are typically used within electronic applications serving major global market sectors including telecommunications, computing and industrial controls.
Murata Power Solutions is a division of Murata Manufacturing Co., Ltd., a worldwide leader in the design, manufacture and sale of electronic components and power supply modules. Murata's devices are found in a wide range of applications including consumer and automotive electronics, and wireless devices. The company has employees and manufacturing facilities throughout the world.