2800, 3200, 3300, 3400, 3400L, 3500, 3600, 5100, 5200 and 8400 : Ten new series of inductive components enhance industry-leading magnetic product range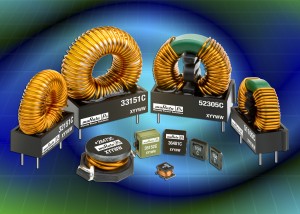 EN
|
FR
|
DE
|
CN
|
JP
|
DN
Over 100 new parts introduced
Shielded, unshielded, leaded, surface mount and low-profile parts added
Custom designs available
Murata Power Solutions has added ten new families of inductive components to its existing portfolio. The new introductions amount to well over 100 new part numbers and enable Murata Power Solutions to further enhance their comprehensive offering of wound ferrite magnetics for use in a wide range of power and EMC filtering applications. The new families comprise bobbin wound surface mount inductors, vertical mount leaded torroid inductors, low-profile shielded and unshielded surface mount inductors, flat coil surface mount power inductors and leaded common mode chokes. All of the parts are fully RoHS compliant and are manufactured using UL 94V-0 approved materials. The new inductors have an operating temperature range of -40ºC to +125ºC making them ideal for applications requiring dependable, high temperature performance. The new range of common mode chokes meanwhile is suitable for use between -40ºC and +85ºC. Murata Power Solutions is able to support design engineers considering the company's inductors by providing in-depth technical support, data sheets and samples available from stock. The company is also able to design and manufacture custom value parts should standard components not meet the exact requirements of a given application. Commenting on the introduction of the new components, Andrea Polti, Global Magnetics Product Manager, Murata Power Solutions, said: "By adding a large and varied selection of new parts we are now able to offer a truly complete range of leading technology inductive components that address a huge range of applications across many industry sectors." He continued: "Adding to our inductive product range further enhances Murata Power Solutions' reputation as a frontrunner in the power electronics market."
Further editorial information from:
Amy Collins
Marketing Communications Manager
Murata Power Solutions
Tel: +1-508-964-5270
Contact details for publication:
Murata Power Solutions, Inc.,
129 Flanders Road
Westborough, MA 01581, USA
Tel: +1-508-339-3000
About Murata Power Solutions
Murata Power Solutions (www.murata-ps.com) is headquartered in Westborough, Massachusetts, with over 1,300 employees worldwide. Murata Power Solutions designs, manufactures and distributes DC-DC Converter, AC-DC Power Supply, Magnetic and Digital Panel Meter product lines, and offers these products in custom, standard and modified-standard variations. Murata Power Solutions. products are typically used within electronic applications serving major global market sectors including telecommunications, computing and industrial controls.
Murata Power Solutions is a division of Murata Manufacturing Co., Ltd., a worldwide leader in the design, manufacture and sale of electronic components and power supply modules. Murata's devices are found in a wide range of applications including consumer and automotive electronics, and wireless devices. The company has employees and manufacturing facilities throughout the world.