RBQ : 400 W quarter brick DC-DC converter from Murata designed for telecom applications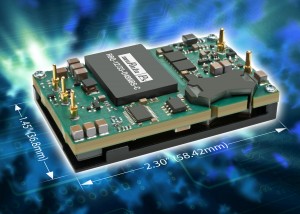 Murata today announced the availability of the RBQ series of isolated 12Vout, 400 Watt DC-DC converters from Murata Power Solutions. The RBQ-12/33-D48 model provides what are believed to be the industry's highest efficiencies of up to 96% from a standard DOSA-compliant quarter-brick package. The RBQ-12/33-D48 is designed to operate in most applications with convection cooling. The RBQ-12/33-D48 can operate from a standard telephone network voltage (TNV) network supply of 36 to 75 VDC around a nominal 48 VDC. The RBQ series is ideal for use in a host of telecommunications, enterprise IT and wireless networking infrastructures that use a distributed power or regulated intermediate bus architecture. The RBQ-12/33-D48 will reliably deliver 33A/400W @ 60°C with 200LFM airflow. Optional features include a load sharing option for higher power or N+1 applications, conformal coating for harsh environments, Positive & Negative on/off control logic and optional pin lengths to accommodate various application board thicknesses. Protection features include output over voltage, over current protection, input under voltage and over temperature shutdown. Input / Output isolation is provided by 2,250 VDC Basic insulation.
Ref. MUR237
Further editorial information from:
Amy Collins
Marketing Communications Manager
Murata Power Solutions
Tel: +1-508-964-5270
Contact details for publication:
Murata Power Solutions, Inc.,
129 Flanders Road
Westborough, MA 01581, USA
Tel: +1-508-339-3000
About Murata Power Solutions
Murata Power Solutions (www.murata-ps.com) is headquartered in Westborough, Massachusetts, with over 1,300 employees worldwide. Murata Power Solutions designs, manufactures and distributes DC-DC Converter, AC-DC Power Supply, Magnetic and Digital Panel Meter product lines, and offers these products in custom, standard and modified-standard variations. Murata Power Solutions. products are typically used within electronic applications serving major global market sectors including telecommunications, computing and industrial controls.
Murata Power Solutions is a division of Murata Manufacturing Co., Ltd., a worldwide leader in the design, manufacture and sale of electronic components and power supply modules. Murata's devices are found in a wide range of applications including consumer and automotive electronics, and wireless devices. The company has employees and manufacturing facilities throughout the world.