EMH-54/3-Q48N : 162 W 54 Vout half-brick power module suits PoE applications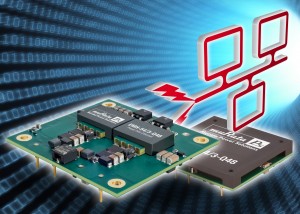 Murata today announced the EMH-54/3-Q48N-C power module designed specifically for Power-over-Ethernet (PoE) applications. The Murata Power Solutions EMH Series DC-DC power module provides a 54 V SELV output, 2250 VDC isolation and a Basic insulation system meeting the requirements for multiport IEEE 802.3at (PoE+) applications. The EMH-54/3-Q48N-C can deliver 30+ watts of power at 54 V to each of four PoE+ Ethernet ports or can deliver up to 162 watts to loads requiring 54 V. The EMH was specifically designed for use in applications requiring a wide operating voltage range such as battery-powered systems (24 V, 48 V or 60 V) and wireless base-station applications. The modules accommodate a Vin range of 18 to 72 VDC suitable for applications across all regions of the world. The EMH-54/3-Q48N Series can be mechanically configured to operate in applications that require forced air cooling or "sealed box" applications, by offering an open frame module for forced air cooling or adding an optional baseplate for mounting a heat sink or for conduction cooling in a "sealed box" application. This highly functional, multipurpose DC to DC converter delivers 54 V @ 3 A over a wide operating input voltage range of 18 – 72 V with efficiencies up to 91.5 %. The modules are UL approved for PoE applications requiring a DC-DC module that will deliver a 54 V SELV output with a basic insulation system that has an isolation voltage rating of 2250 VDC. The module conforms to the Industry Standard, DOSA half-brick package measuring 58.4 x 61 x 12.7 mm (2.3 x 2.4 x 0.5 inches). An optional baseplate can be supplied if the application requires a heat sink, or for use in conduction cooling (sealed box) applications. Added protection features include input under voltage lockout, output current limiting, short-circuit protection, and thermal shutdown.
Ref. MUR201
Further editorial information from:
Amy Collins
Marketing Communications Manager
Murata Power Solutions
Tel: +1-508-964-5270
Contact details for publication:
Murata Power Solutions, Inc.,
129 Flanders Road
Westborough, MA 01581, USA
Tel: +1-508-339-3000
About Murata Power Solutions
Murata Power Solutions (www.murata-ps.com) is headquartered in Westborough, Massachusetts, with over 1,300 employees worldwide. Murata Power Solutions designs, manufactures and distributes DC-DC Converter, AC-DC Power Supply, Magnetic and Digital Panel Meter product lines, and offers these products in custom, standard and modified-standard variations. Murata Power Solutions. products are typically used within electronic applications serving major global market sectors including telecommunications, computing and industrial controls.
Murata Power Solutions is a division of Murata Manufacturing Co., Ltd., a worldwide leader in the design, manufacture and sale of electronic components and power supply modules. Murata's devices are found in a wide range of applications including consumer and automotive electronics, and wireless devices. The company has employees and manufacturing facilities throughout the world.