5300, 5400 and 5500 : Three new series of current sense transformers designed for latest applications in high frequency equipment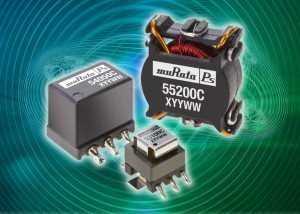 EN
|
FR
|
DE
|
CN
|
JP
|
DN
10A and 15A primary current ratings
Compact designs using UL94 V-0 package materials
50kHz to 500kHz operating frequency range
Wide choice of devices to suit many applications
Murata Power Solutions has introduced three new ranges of surface-mount current sense transformers. The 5300, 5400 and 5500 series can be used to measure or monitor AC currents in high frequency applications such as switched-mode power supplies, motor controllers, and electronic lighting ballasts. All three series are RoHS compliant, feature UL94 V-0 package materials, have a frequency range of 50kHz to 500kHz and comply with the J-STD-020C standard for reflow soldering. Designed to measure AC currents up to 10A, the 5300 series comprises ten different devices with a primary current rating to 10A and between 20 and 200 turns, depending on the resolution of current measurement desired. A primary to secondary isolation of 500Vrms in an industry-standard footprint helps simplify their inclusion into existing product designs. The 5400 and 5500 series are designed to measure AC currents up to 15A and are available with 50, 100 or 200 turns. The 5400 series features a small footprint package style and provides 1200Vrms primary to secondary isolation. The 5500 series is offered in a low profile package, with a primary to secondary isolation of 1000Vrms.
Ref. CD239A
Further editorial information from:
Amy Collins
Marketing Communications Manager
Murata Power Solutions
Tel: +1-508-964-5270
Contact details for publication:
Murata Power Solutions, Inc.,
129 Flanders Road
Westborough, MA 01581, USA
Tel: +1-508-339-3000
About Murata Power Solutions
Murata Power Solutions (www.murata-ps.com) is headquartered in Westborough, Massachusetts, with over 1,300 employees worldwide. Murata Power Solutions designs, manufactures and distributes DC-DC Converter, AC-DC Power Supply, Magnetic and Digital Panel Meter product lines, and offers these products in custom, standard and modified-standard variations. Murata Power Solutions. products are typically used within electronic applications serving major global market sectors including telecommunications, computing and industrial controls.
Murata Power Solutions is a division of Murata Manufacturing Co., Ltd., a worldwide leader in the design, manufacture and sale of electronic components and power supply modules. Murata's devices are found in a wide range of applications including consumer and automotive electronics, and wireless devices. The company has employees and manufacturing facilities throughout the world.