UQQ : 4:1 Wide Input, Highly Efficient 100W Quarter-Brick DC/DC Converters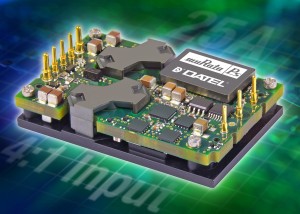 Wide range 9-36 Volt (12/24Vin nom) or 18-75 Volt (24/48Vin nom) DC inputs
Five fixed output ranges, 3.3V/25A to 24V/4A
Standard quarter-brick package and pinout
2250V isolation with 0.43"package height
Extensive control and protection features
UL/EN/IEC safety approvals and certifications
Murata Power Solutions: Today's advanced digital systems demand extended input range compliance on DC/DC power converters. Besides battery and mobile power applications, the ultra wide 4:1 input range of Murata Power Solutions advanced UQQ family of converters perfectly suits industrial, medical and telecom applications and is capable of supplying up to 100Watts of usable power. Available models are 3.3V/25A, 5V/20A, 12V/8A, 15V/7A and 24V/4A with basic grade I/O isolation voltage of 2250 Volt. With an overall height of just 0.43" (10.92 mm), the UQQ's readily install on PC boards with half-inch card spacing. Input ranges are 9 to 36 (12V and/or 24Vin nominal) and 18 to 75 Volts DC (24V and/or 48Vin nominal). The UQQ's planar magnetics combined with multilayer heavy copper PC boards and synchronous rectifier topology yield high efficiencies up to 91%. UQQ system features include undervoltage and overvoltage shutdowns, a Positive or Negative logic-compatible Remote On/Off control, Sense feedback to minimize IR line drop losses and a wide output voltage Trim input to adjust the accuracy. The industry-standard pin-compatible "quarter brick" package measures 2.22 x 1.46 x 0.43 inches (56.4 x 36.8 x 10.92 mm). An optional baseplate maximizes heat transfer to an external mounting surface, giving up to +105 degrees Celsius full power operation. Calculated MTBF figures exceed 5Million hours. All models are fully RoHS-6 hazardous material compliant. These converters are intended for instruments, mobile battery and vehicle applications, computer systems, medical apparatus, telecommunications and data collection devices.
Ref.: CD247A
Further editorial information from:
Amy Collins
Marketing Communications Manager
Murata Power Solutions
Tel: +1-508-964-5270
Contact details for publication:
Murata Power Solutions, Inc.,
129 Flanders Road
Westborough, MA 01581, USA
Tel: +1-508-339-3000
About Murata Power Solutions
Murata Power Solutions (www.murata-ps.com) is headquartered in Westborough, Massachusetts, with over 1,300 employees worldwide. Murata Power Solutions designs, manufactures and distributes DC-DC Converter, AC-DC Power Supply, Magnetic and Digital Panel Meter product lines, and offers these products in custom, standard and modified-standard variations. Murata Power Solutions. products are typically used within electronic applications serving major global market sectors including telecommunications, computing and industrial controls.
Murata Power Solutions is a division of Murata Manufacturing Co., Ltd., a worldwide leader in the design, manufacture and sale of electronic components and power supply modules. Murata's devices are found in a wide range of applications including consumer and automotive electronics, and wireless devices. The company has employees and manufacturing facilities throughout the world.