NMJ : Miniature SIP Packaged Device is World's Smallest Safety Approved 1 Watt DC/DC Converter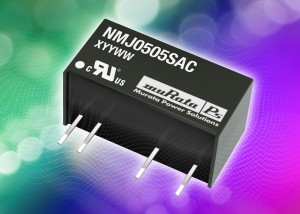 Miniature design with UL60950 safety approval
Reinforced insulation system
Advanced construction with up to 0.42W/cm3 power density
5.2kVDC isolation
Murata Power Solutions has extended its NMJ series of low power DC/DC Converters to include eight new single output models. The devices are the world's smallest UL60950 safety standard approved 1W converters. The NMJ series is housed in fully encapsulated, UL 94V-0 rated, 7-pin SIP packages with a footprint of just 1.91cm2, making them ideal for use in applications that demand a miniature, safety approved solution. With reinforced system of insulation the NMJ is production tested at 5.2kVDC Operation at full 1W load, without heatsinking, is possible between -40ºC and +60ºC. The single and dual output (with power sharing) DC/DC Converters use an advanced internal SMD construction and toroidal magnetics to help them achieve a power density of up to 0.42W/cm3. The complete NMJ series provides engineers with a choice of 5V or 12V inputs. Available outputs are 5V, 9V and 15V. Up to 11 million hours calculated MTTF makes the NMJ ideal for usage in high reliability, long life applications. The RoHS compliant NMJ series offers pin and functional compatibility with the Murata Power Solutions NMV series of SIP DC/DC Converters, giving designers upgradeability for systems requiring safety agency recognition.
Ref.: CD228A
Further editorial information from:
Amy Collins
Marketing Communications Manager
Murata Power Solutions
Tel: +1-508-964-5270
Contact details for publication:
Murata Power Solutions, Inc.,
129 Flanders Road
Westborough, MA 01581, USA
Tel: +1-508-339-3000
About Murata Power Solutions
Murata Power Solutions (www.murata-ps.com) is headquartered in Westborough, Massachusetts, with over 1,300 employees worldwide. Murata Power Solutions designs, manufactures and distributes DC-DC Converter, AC-DC Power Supply, Magnetic and Digital Panel Meter product lines, and offers these products in custom, standard and modified-standard variations. Murata Power Solutions. products are typically used within electronic applications serving major global market sectors including telecommunications, computing and industrial controls.
Murata Power Solutions is a division of Murata Manufacturing Co., Ltd., a worldwide leader in the design, manufacture and sale of electronic components and power supply modules. Murata's devices are found in a wide range of applications including consumer and automotive electronics, and wireless devices. The company has employees and manufacturing facilities throughout the world.