UWE 100-120W : Highly efficient high current eighth-brick DC/DC converters suit high density embedded applications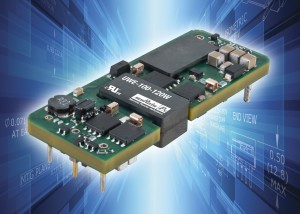 Murata Power Solutions today announced the introduction of the UWE series of highly efficient 100 – 120 Watt open frame isolated DOSA-compatible eighth-brick DC/DC converters. Using the industry standard through-hole package, measuring 58.42 x 22.86 x 9.91 mm (2.3 x 0.9 x 0.39 inches), the single output units offer the nominal outputs of 3.3, 5 or 12 VDC. Providing an efficiency of typically 91.5 % means that for most applications no forced airflow is required. Suiting embedded computing applications and instrumentation subsystems, the converters accommodate an ultra-wide 4:1 input voltage range from 18 to 75 VDC around a nominal 48 VDC. Line regulation is kept within +/- 0.25% Vout and load regulation is maximum +/- 0.2% Vout across the complete range. On-board remote sense inputs compensate for line voltage errors at high output currents. A trim function provides the ability to adjust outputs +/- 10% of nominal output voltage in order to compensate for line losses. A remote on/off input, negative or positive, provides the ability to remotely control the converter such as required to schedule load startup. The UWE series can operate from –40 degrees C to +85 degrees C. Input to output isolation is 2,250 VDC. Protection features include input under voltage, output short circuit, over current and over temperature. An optional baseplate is available for conduction cooled applications.
Ref. MPS200
Further editorial information from:
Amy Collins
Marketing Communications Manager
Murata Power Solutions
Tel: +1-508-964-5270
Contact details for publication:
Murata Power Solutions, Inc.,
129 Flanders Road
Westborough, MA 01581, USA
Tel: +1-508-339-3000
About Murata Power Solutions
Murata Power Solutions (www.murata-ps.com) is headquartered in Westborough, Massachusetts, with over 1,300 employees worldwide. Murata Power Solutions designs, manufactures and distributes DC-DC Converter, AC-DC Power Supply, Magnetic and Digital Panel Meter product lines, and offers these products in custom, standard and modified-standard variations. Murata Power Solutions. products are typically used within electronic applications serving major global market sectors including telecommunications, computing and industrial controls.
Murata Power Solutions is a division of Murata Manufacturing Co., Ltd., a worldwide leader in the design, manufacture and sale of electronic components and power supply modules. Murata's devices are found in a wide range of applications including consumer and automotive electronics, and wireless devices. The company has employees and manufacturing facilities throughout the world.