MVAB120 : Murata Power Solutions launches highly efficient compact 1U open frame 120 W AC/DC power supply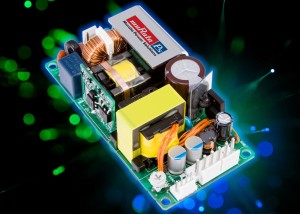 Murata Power Solutions today announced the MVAB120 series of high efficiency, typically up to 91%, open frame single output 120 Watt power supplies aimed at a broad range of telecom and industrial applications. Measuring just 101.6 x 50.8 x 34.3 mm (2 x 4 x 1.35 inches), the low profile units satisfy the 1U height constraints of this industry standard footprint. The high efficiency design of the MVAB120 ensures that waste heat is kept to a minimum and the units are capable of delivering up to 75 W using convection cooling only. Just 250 LFM forced airflow is required for the supply to operate at the 120 W full load output. The series comprises three single output models covering the nominal outputs of 12, 24 or 48 VDC. Accommodating the full universal range of input voltages, from 90  - 264 VAC and 120 – 300 VDC, the MVAB120 also meets the EU PFC directive for active power factor correction. Safety approvals include the internationally recognized UL/EN/IEC 60950-1:2005 2
nd
edition standard for IT and commercial equipment. The units also comply with IEC/EN 61000 Class A and EN55022 Class B standards for emissions and immunity. Suiting most operating environments, the MVAB120 series can deliver full load from -10 to + 50 degrees C, and is capable of start-up from temperatures as low as -20 degrees C. Output protection features include overcurrent, overvoltage and overtemperature.
Ref. MPS176A
Further editorial information from:
Amy Collins
Marketing Communications Manager
Murata Power Solutions
Tel: +1-508-964-5270
Contact details for publication:
Murata Power Solutions, Inc.,
129 Flanders Road
Westborough, MA 01581, USA
Tel: +1-508-339-3000
About Murata Power Solutions
Murata Power Solutions (www.murata-ps.com) is headquartered in Westborough, Massachusetts, with over 1,300 employees worldwide. Murata Power Solutions designs, manufactures and distributes DC-DC Converter, AC-DC Power Supply, Magnetic and Digital Panel Meter product lines, and offers these products in custom, standard and modified-standard variations. Murata Power Solutions. products are typically used within electronic applications serving major global market sectors including telecommunications, computing and industrial controls.
Murata Power Solutions is a division of Murata Manufacturing Co., Ltd., a worldwide leader in the design, manufacture and sale of electronic components and power supply modules. Murata's devices are found in a wide range of applications including consumer and automotive electronics, and wireless devices. The company has employees and manufacturing facilities throughout the world.