DMS-30DR : Murata Power Solutions Introduces Daylight-Readable LED-Display Digital Panel Meters With Auto-Dimming Function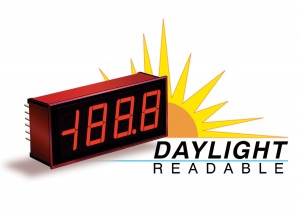 3 ½ digit, 0.56-inch (14.2mm) high, super-bright display
Compact moisture and vibration resistant integrated package, suitable for panel or PCB mounting
Includes external brightness adjustment pin
Offers significant benefits versus LCD displays
Ideal for marine, industrial, and automotive applications
With the launch of its 3½ digit DMS-30DR series, Murata Power Solutions is the first-to-market with an auto-dimming, daylight readable, LED-display digital panel meter. The large, 0.56-inch (14.2mm) high, super-bright red LED is readable in direct sunlight without the need for special filters or shading devices. The DMS-30DR series satisfies the growing market requirement for displays that can be used in very high ambient light conditions, but can also dim themselves in poorer light. Previously, applications that required daylight visibility necessitated the use of less reliable liquid crystal display (LCD) technology that incorporates complex, high power consumption, backlighting circuitry. A further drawback of LCD technology versus LED displays is its poor viewing angle; characters on the DMS-30DR series can be read at viewing angles of up to 180 degrees, in both vertical and horizontal planes. Housed in a small, encapsulated, 12-pin DIP package with overall dimensions of 2.17" x 0.92" x 0.56' (55mm x 23mm x 14mm), the DMS-30DR series is suitable for either panel or PCB mounting. The rugged moisture and vibration resistant assembly integrates the display, autodim display drivers, a light sensor, reference circuitry and an A/D converter. Each package also incorporates a built-in colour filter and bezel. A user-accessible external brightness adjustment pin enables custom intensity settings or brightness matching in multi-display applications. The DMS-30DR series comprises four panel meters offering a choice of four high-impedance differential input voltage ranges: ±200mV, ±2V, ±20V and ±200V. Typical display accuracy is ± 1 count. All models operate from a single +5V supply and draw as little as 7mA when operated in total darkness, and typically less than 200mA when operated at maximum brightness. CMRR for all devices is 86dB, and inputs are over-voltage protected to ±250V. Operating temperature range for all models is 0ºC to +60ºC.
Ref. CD241A
Further editorial information from:
Amy Collins
Marketing Communications Manager
Murata Power Solutions
Tel: +1-508-964-5270
Contact details for publication:
Murata Power Solutions, Inc.,
129 Flanders Road
Westborough, MA 01581, USA
Tel: +1-508-339-3000
About Murata Power Solutions
Murata Power Solutions (www.murata-ps.com) is headquartered in Westborough, Massachusetts, with over 1,300 employees worldwide. Murata Power Solutions designs, manufactures and distributes DC-DC Converter, AC-DC Power Supply, Magnetic and Digital Panel Meter product lines, and offers these products in custom, standard and modified-standard variations. Murata Power Solutions. products are typically used within electronic applications serving major global market sectors including telecommunications, computing and industrial controls.
Murata Power Solutions is a division of Murata Manufacturing Co., Ltd., a worldwide leader in the design, manufacture and sale of electronic components and power supply modules. Murata's devices are found in a wide range of applications including consumer and automotive electronics, and wireless devices. The company has employees and manufacturing facilities throughout the world.