S1U-3X : 19-Inch Powershelf Simplifies Design and Helps Shorten Time-to-Market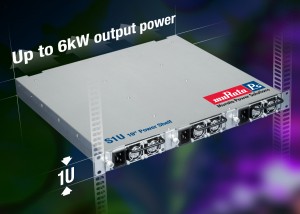 1200W (110VAC), 1600W and 2000W(220VAC)
48V main output with 3.3V, 5V or 12V standby
1U enclosure with integrated fans
High power density
90.6% efficiency
Optional 1U 19in. Powershelf
Murata Power Solutions has introduced a new powershelf that is designed to accommodate up to three of the company's D1U AC/DC front-end power supplies in parallel. The S1U-3X alleviates the need for designers to develop a custom chassis to accommodate multiple power supply modules. Using the S1U-3X helps simplify system design, reduce NREs, and shorten time to market by providing a 1U high powershelf that is fully compatible with standard 19 inch rack systems. Two versions of the new powershelf provide compatibility with 12V and 48V versions of Murata Power Solutions class leading D1U power supplies. Both are RoHS compliant and include numerous features that enhance ease of use in applications such as servers, workstations and storage systems that utilise distributed power architectures. The S1U-3X allows hot intersection / removal of power supplies, and also features a blind docking connection. Screw terminal lug connections that accommodate #2 AWG cabling are used to bus-out the DC output. A separate single connector provides powershelf to host communication via the I2C bus. A 12V powershelf holding three D1U-W-1600-12 power supplies is able to support 4.8kW of bulk 12V power. A 48V powershelf containing three D1U-W-2000-48 power supplies supports 6kW of bulk 48V power. An optional shelf-to-shelf signal connector can be utilised to facilitate the interconnection of two S1U-3X powershelves in parallel. This provides 9.6kW of bulk 12V power, or 12kW of bulk 48V power.
Ref. CD214A
Further editorial information from:
Amy Collins
Marketing Communications Manager
Murata Power Solutions
Tel: +1-508-964-5270
Contact details for publication:
Murata Power Solutions, Inc.,
129 Flanders Road
Westborough, MA 01581, USA
Tel: +1-508-339-3000
About Murata Power Solutions
Murata Power Solutions (www.murata-ps.com) is headquartered in Westborough, Massachusetts, with over 1,300 employees worldwide. Murata Power Solutions designs, manufactures and distributes DC-DC Converter, AC-DC Power Supply, Magnetic and Digital Panel Meter product lines, and offers these products in custom, standard and modified-standard variations. Murata Power Solutions. products are typically used within electronic applications serving major global market sectors including telecommunications, computing and industrial controls.
Murata Power Solutions is a division of Murata Manufacturing Co., Ltd., a worldwide leader in the design, manufacture and sale of electronic components and power supply modules. Murata's devices are found in a wide range of applications including consumer and automotive electronics, and wireless devices. The company has employees and manufacturing facilities throughout the world.