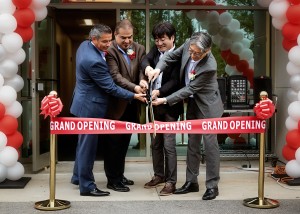 Murata Power Solutions recently celebrated the relocation of their Corporate Headquarters' office to a new facility in Westborough, MA. The momentous occasion was celebrated with a Ribbon Cutting Ceremony followed by an office tour and a barbeque lunch reception. The event was attended by employees, customers, and vendors who were instrumental in making the move happen. Murata Power Solutions had the pleasure of being joined by four special guests from MMC for the festivities, including Yoshito Takemura, Executive Vice President – planning Administration Unit & Board of Director; Tatsuo Bizen, Director of Power Module Division; Akira Inamori, Senior Manager Corporate Planning Department; and Yoshifumi Ishida, Director of Global HR.
This move is a fresh start for the product division as it moves towards a much brighter future. "We have seen a significant increase in business over the past few years and we believe this move will be instrumental in improving our sales growth and profitability", said Stephen Pimpis, President & CEO. This new facility was chosen because it is located in the heart of an exciting high-tech corridor in Massachusetts. It is surrounded by innovative companies such as Dell/EMC, Genzyme, and BOSE. Murata Power Solutions hopes to attract a stronger pool of candidates for staffing opportunities now that it is located in this region of the state.
The grand opening ceremonies took place on September 7, 2017, which coincidentally was the 10th anniversary of this product division, formally known as C&D Technologies, being incorporated into the Murata family. This facility houses approximately 60 employees who work in a variety of administrative roles, including customer service, product marketing, and supply chain, as well as product engineering. Additionally, a small number of MEA's marketing team members reside in this office.
The future looks great for Murata Power Solutions and we anticipate a prosperous future in this new location.