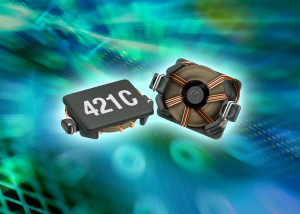 Murata Power Solutions today announced the 8300 series of toroidal surface mount power inductors. These miniature low profile devices, measuring only 7.8 x 5.20 x 1.8mm, suit a broad range of handheld consumer electronics designs where the available PCB footprint and height are restricted.
The toroidal core of the 8300 series ensures that the magnetic flux is confined to the core. As a result stray fields are almost totally eliminated, accounting for the exceptional EMI characteristics of the series.
With a device dependent maximum DC current of 3.0A, inductors are available from 0.42 to 100uH. DC resistance ranges from 24mohm up to 1320mohm across the range.
The 8300 series has an operating temperature range from -40 to +85degC.
Supplied in tape and reel for high volume automated surface mount assembly, the maximum reflow solder temperature is +260degC as required by J-STD-020D.
Ref. MPS145A