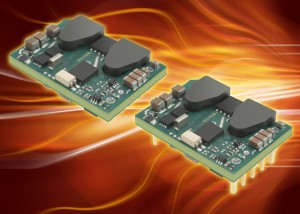 Murata today announced the ULS series of Murata Power Solutions,100 Watt fully regulated DC-DC converters designed for use in distributed or intermediate bus power architectures. Delivering up to 100 W from an industry standard 1/16 brick package opens new design opportunities for power engineers needing to maximize power density where board space and efficiency are top priorities.
The ULS series delivers efficiencies up to 92% on the 12Vout model and 91% on the 3.3 and 5Vout models. The ULS series power modules utilize advanced mechanical design techniques, components and materials to optimize the electrical performance and thermal properties. Couple the advanced thermal management properties and the high efficiency of the ULS series together in an industry standard 1/16th brick package and the result is a power module that will deliver the rated power with less reliance on forced air cooling in most applications.
Within the ULS series three single output models are available providing engineers with options including 3.3, 5 or 12 VDC outputs. The modules include all of the features expected for today's demanding applications. The standard features include an input voltage range of 36-75V, meeting the insulation requirements of EN60950 - up to 2250VDC, remote on/off control, over temperature protection, over current protection, input under voltage protection. The output can be trimmed up or down by 10% in order to make up for load losses or to suit special application requirements. The modules include output voltage sense pins that maintain output regulation to within ±0.2% across all input line and load conditions.
The ULS 100W series has been designed for demanding high reliability applications including datacom, networking, wireless networks, optical network equipment, server and storage. The modules are offered in either thru-hole or SMT versions and are rated for operation from -40°C to 85°C.
Ref. MUR202