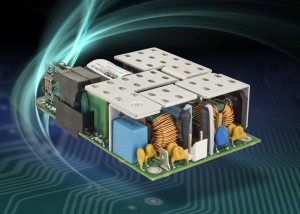 Murata has introduced the MVAC series of highly efficient, a 3 x 5" open frame  AC-DC power supply from Murata Power Solutions. Suitable for use in a wide variety of industrial factory automation, communications and medical equipment, the series comprises two single output models, the 250 Watt MVAC250 and the 400 Watt MVAC400 units. Both models accommodate the universal AC input voltage range from 90 to 264 VAC with active power factor correction (PFC) and active inrush protection.  Each model is available with a popular nominal output voltage of 12, 24 or 50 VDC. In addition, a 12 VDC 1 A fan supply and an auxiliary 5 VDC 2 A output are provided across the range.
With efficiency rating of 94% typical, the units are packaged in an industry standard 1U open frame format measuring just 127.00 x 76.20 x 35.56 mm (5 x 3 x 1.4 inches). These low profile power converters have significantly better convection cooled performance characteristics than other competing designs. The MVAC250 can deliver up to 170 W output and the MVAC400 up to 250 W without the need for any forced air flow. With their high convection-cooled ratings, the use of the MVAC series allows OEMs to eliminate fan and fan controllers in their traditional power designs. In addition to the cost savings, removing cooling fans also allows designers to increase their product MTBF while decreasing system noise.
The MVAC250 and the MVAC400 comply with the internationally recognized UL60601-1 3rd edition medical safety standard making them suitable for use in medical applications. The units also meet the IEC60950/UL60950 safety specifications and EN55022 standard for conducted emissions.
Each power supply is suited for use in a broad range of operating temperature environments. They are capable of operating on full power from -10 to +50 degrees C with a start-up temperature down to -20 degrees C and derated operation up to 70 degrees C
Protection features include over voltage, over current, and over temperature. A remote sense input and power OK signal are provided across the range. Optional droop current sharing allows multiple supplies to be operated in parallel.
Ref. MUR190